Have you checked out Against All Grain yet? Our family isn't exclusively gluten/grain free, but I really like giving ourselves a break from wheat here and there and books like these are generally very whole-food based which I love. Not to mention, this book has beautiful photos and the author's story of recovery through nutrition is compelling! To sit with a beautiful cook book who's pages you can feel, and to dream up something delicious and healthy…and then to actually cook said dish. Victory at its finest.
So, my dear friend Courtney cooked this meal the very first time I had it (I gifted her this cook book, so I feel partially-er-entirely responsible) and served it with the most amazing cheese grits. She even whipped out her handy cooking scale and shredded exactly a pound of cheddar to which I laughed heartily and gave her plenty of grief because I would lose my mind if I were required to actually weigh a pound of shredded cheese. #eyeballit (It's also against my policy to "mince" garlic. Regardless of instructions, if it calls for cloves, garlic press it. You will not be disappointed and you will not lose your mind.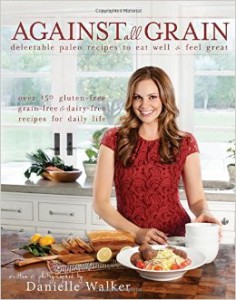 However, I've never made grits (although I still claim the South) and this works great served over millet instead. Would also be wonderful over rice (or tortilla chips if you're my husband).
Slow Cooker Beef Chuck Chili
Adapted from Against All Grain
1 T Coconut Oil
2.5 pounds beef chuck, cut into cubes
1 small yellow onion, diced
1 – 28 ounce can diced tomatoes
1.5 cups beef broth (chicken broth works too!)
2 T tomato paste
2 cloves garlic, pressed
2.5 T mild chili powder
1 T sea salt (I love Redmond's Real Salt)
1 -2 T cumin
1/2 tsp. paprika
Optional (these ingredients are listed in the original recipe but I've made it both with and without them and it's crazy good either way!):
2 Red Bell Pepper diced
1 bay leaf
1/2 tsp curry powder
1/2 tsp cinnamon
1/4 tsp black pepper
1/4 tsp cayenne pepper
1 ounce unsweetened chocolate
Directions:
Place oil in large skillet over medium-high heat and brown on all sides (about 10 minutes).
Drain some (not all) of the fat and pour into slow cooker.
Add remaining ingredients (except the chocolate if using) and cook on low for 3-6 hours. Ironically, my slow cooker cooks very fast, so I err on the shorter side before switching it to the "Warm" setting until dinner.
Stir in chocolate at the end and adjust salt to taste.
Serve over cooked millet, rice, or cheese grits.
Garnish with cilantro, sour cream, raw cheddar and chopped red onion.
Enjoy a hearty, melt-in-your-mouth, satisfying whole-food meal, perfect for crisp Fall nights.